Senate President Karen Spilka Awarded an Honorary Degree From William James College
By Staff Report
Jul 13, 2022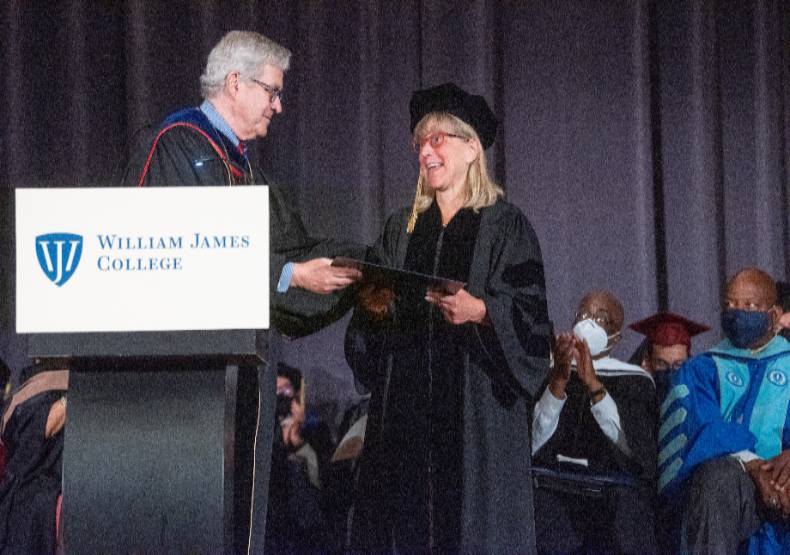 NEWTON, MA -- Senate President Karen Spilka, a respected leader and champion for diverse social issues including mental healthcare, juvenile justice, educational equity, and services for the elderly, was recently awarded a doctorate of humane letters, the highest honor bestowed by William James College. Spilka, a former social worker, attorney, and small business owner was honored at commencement exercises celebrating the William James College class of 2022. Located in Newton, Massachusetts, William James College is a nonprofit higher educational institution that prepares the next generation of behavioral health professionals.
For the past five years, Spilka, a Democrat who represents the 2nd Middlesex & Norfolk District which includes Ashland, Framingham, Franklin, Holliston, Hopkinton, Medway, and Natick, has served as Senate President. She was first elected to the Massachusetts State Senate in 2005.
According to William James College President Nicolas Covino, Senate President Spilka understands the importance of workforce development within the mental health sector and the critical role that policy making plays in the development and retention of the behavioral health professionals.
"Senate President Spilka gives voice to those who are often overlooked. A staunch advocate for accessible, high-quality care for residents of every age and background, she works tirelessly to eliminate barriers to essential mental health services," said Covino.
Senate President Spilka is widely recognized for her leadership during the height of the pandemic. She pursued the passage of Patients First legislation which advanced support for community hospitals, COVID testing sites, and telehealth services. Despite a crisis that resulted in significant budget cuts across the country, Senate President Spilka helped establish one of the most robust Rainy-Day funds in the country which allowed the Commonwealth to avoid cuts to social safety nets, while expanding support for housing stability, food security, unemployment benefits and much-needed relief for the hospitality and restaurant industries.
A graduate of Northeastern Law School and a longtime resident of Ashland, Senate President Spilka also holds a B.S. in Social Work from Cornell University. (She has been married to environmental engineer Joel S. Loitherstein for more than 30 years.)
Topics/Tags
Follow William James College
Media Contact
Katie O'Hare
Senior Director of Marketing