Photographer, Philanthropist and Pepperell Native Michael Carroll Awarded an Honorary Degree From William James College
By Staff Report
Jul 13, 2022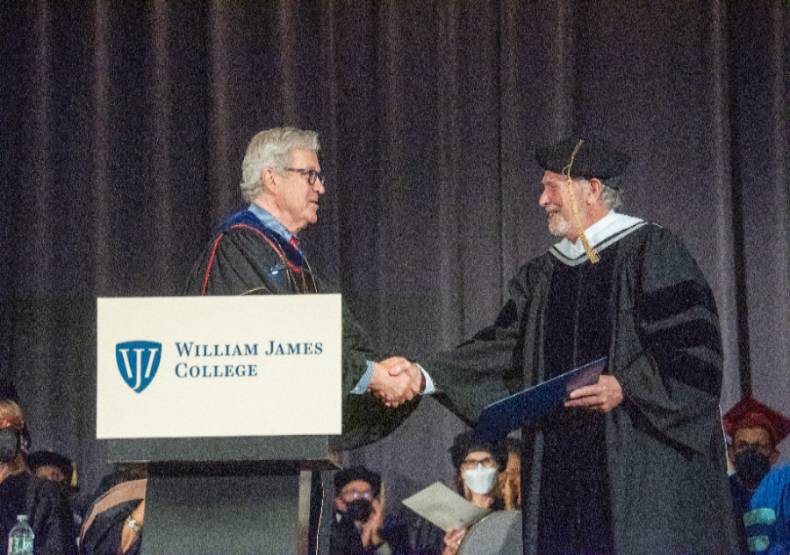 NEWTON, MA – Michael Carroll, a respected philanthropist, nonprofit innovator, and photographer whose images documented the end of the communist regime in Romania, was recently awarded a doctorate of humane letters, the highest honor bestowed by William James College. Located in Newton, Massachusetts, William James College is a nonprofit higher educational institution that prepares the next generation of behavioral health professionals.
Carroll's photographs of Romania following the 1989 fall of dictator Nicolae Ceauseşcu have appeared in numerous publications including the New York Times and the Boston Globe. A series of books showcasing his work include Picturing the Possible: The Story of Romanian Children's Relief, A Commonwealth of Golfers: A Centennial Tribute to the Game and Its Players, and Circus Dreams: The Making of a Circus Artist. As a media consultant, Carroll has collaborated with a diverse group of companies and institutions including Conde Nast, a global media company, General Motors, Disney, Pixar, and Harvard Medical School.
Carroll, a graduate of the University of Notre Dame, is best known for chronicling the pediatric AIDS crisis in Romania. His haunting images brought the plight of Romanian children to the attention of the western world.
For more than 20 years, Carroll worked tirelessly to change the lives of almost 170,000 Romanian orphans. Carroll's efforts were the subject of "Hand Held," a documentary produced and directed by two-time Academy Award®-nominated filmmaker Don Han. The highly regarded Romanian Children's Relief Fund was launched in 1990 by Carroll and Dr. Bill Griffo of New York Hospital/Cornell Medical Center who together exposed the plight of Romanian orphans and the nation's pediatric AIDS epidemic.
"Michael Carroll uses his camera to focus attention on those who are often forgotten," said William James College President Nicholas Covino. "Michael's keen eye and open heart have helped heal tens of thousands of vulnerable children who experienced unspeakable physical and psychological trauma. Through his work, he has helped repair the world," said Covino.
Topics/Tags
Follow William James College
Media Contact
Katie O'Hare
Senior Director of Marketing