President Nicholas Covino Receives Massachusetts Psychological Association Ezra Saul Psychological Service Award, Dr. Catherine Vuky Named MPA Teacher of the Year
By Anne Wilson, Director of Communications
Nov 19, 2021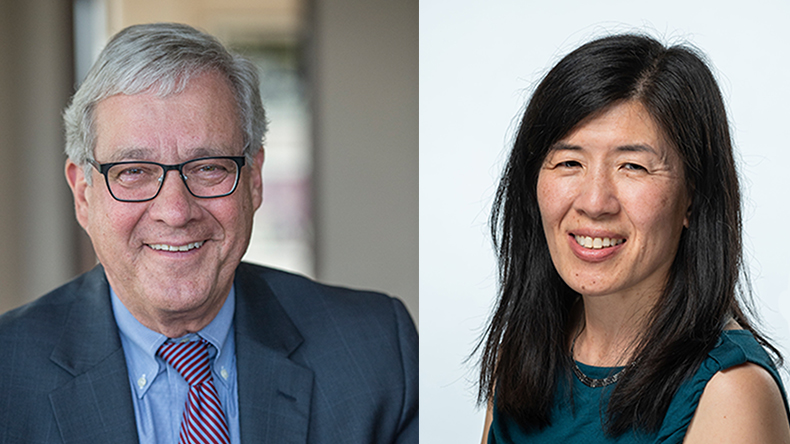 The Massachusetts Psychological Association (MPA) has recognized two members of the William James College community. During an awards ceremony held virtually on November 13, Dr. Catherine Vuky, director of the William James College Asian Mental Health Program (AMHP) and assistant professor of Clinical Psychology, was recognized as the MPA Teacher of the Year. President Nicholas Covino received the Ezra Saul Psychological Service Award.
"Nothing is more meaningful than to be recognized by colleagues, especially colleagues who are working on the same important issues of access to behavioral healthcare," Covino said. "While I am honored to receive this award, it belongs to the many staff, faculty and graduates at William James College who are doing the transformational work of bringing a diverse workforce forward."
The service award is named for Ezra Saul, an early president of MPA, and recognizes the promotion and acceptance of psychological services in Massachusetts.
"At a time when we see a three and four-fold rise in behavioral health problems, what was an already critical need, especially among our historically marginalized people, is greater than ever," Covino said. "I appreciate the recognition of the College's work and I am grateful for this important award."
The MPA Teacher of the Year Award goes to a professor who has demonstrated influence in promoting an interest in the field of psychology to students and who has developed effective teaching methods and courses, and it recognizes professional activity in service of teaching within and outside the university.
Shellee Robbins, director of Field Education, introduced Vuky at the MPA ceremony and, in speaking, quoted a student as having said, "[Dr. Vuky] goes far above and beyond to serve her students, mentees, the university community."
Vuky developed and directs the College's Asian Mental Health concentration, which provides students an opportunity to learn about the unique mental health challenges faced by the AAPI community. She also chairs the Clinical Psychology department's diversity implementation and evaluation team.
"Dr. Vuky is not only a dedicated and extremely knowledgeable instructor, she is an immensely compassionate and tireless advocate for equity and cultural competence in the services we provide as psychologists," said Dr. Joseph Toomey, associate chair of the Clinical Psychology department.
"[The diversity implementation and evaluation team] monitors and implements initiatives around assuring equity in our departmental practices, as well as inclusiveness and attention to cultural competence across curriculum," said Toomey. "In this role, she has shepherded initiatives that serve to improve the experience of LGBTQ+ and culturally diverse students in the classroom, as well as our efforts to recruit and retain diverse students and faculty. I cannot think of a more deserving recipient of this award."
Dr. Stacey Lambert, vice president for Academic Affairs and chair of the Clinical Psychology department said the department was happy to see Vuky receive this recognition for her innovation and dedication to teaching students. Lambert added that Vuky is also "known for being a remarkable advisor."
In an email, Thanh Phan, a Clinical Psychology PsyD student and one of Vuky's advisees, said she's had "the best experience" working with Vuky.
"[Dr. Vuky] has been an incredible teacher and mentor, guiding me through this path of psychology where not many individuals from my culture have taken," said Phan. "Her wisdom, patience, endless support, and generosity has provided me with an abundance of opportunities to find my passion, strength, and commitment to further develop this field and support my community."
This is the second year in a row that the MPA teaching award has gone to a William James College faculty member. Dr. Bruce Ecker, now retired, was named MPA Teacher of the Year for 2020.
Topics/Tags
Follow William James College
Media Contact
Katie O'Hare
Senior Director of Marketing