Veteran Day Event Invites Conversation, Reflection on Military and Educational Experience
By Josh Rizkalla
Nov 19, 2021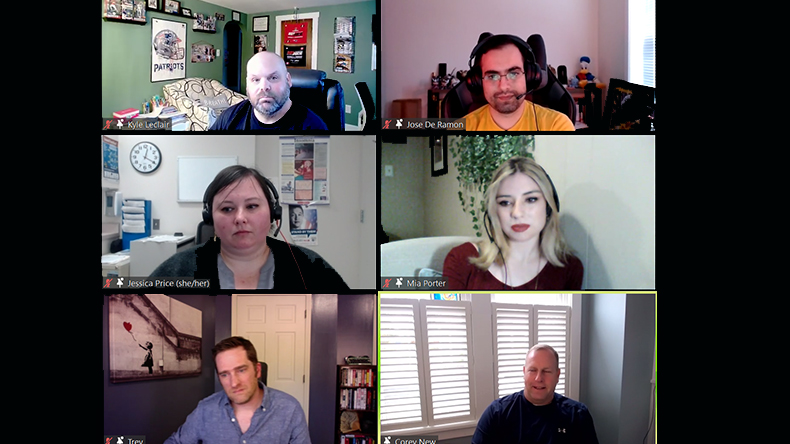 An event held on November 12, and hosted by the Military and Veterans Psychology (MVP) concentration and the Train Vets to Treat Vets (TVTV) program, brought together students and graduates as panelists for a discussion where they reflected on their service and how skills gained or developed through service, including leadership, resiliency, trust, and communication, have impacted their academic journey. The discussion also explored the impact military and veteran students have in the classrooms and in the community at William James.
"There's this wonderful richness [military students] bring into conversations," said panelist Dr. Jessica Price, a Navy veteran and graduate of the Clinical PsyD program. "They're typically a bit older and they may have traveled the world, they may have families; they're able to share that and younger students find that beneficial."
Price was joined on the panel by Kyle LeClair, a Navy veteran and student in the Clinical Mental Health Counseling program and MVP concentration; Dr. Trey Tippins, an Army veteran and graduate of the Clinical PsyD program; and Corey New, a retired Army colonel and Executive Coaching Graduate Certificate (GCEC) program graduate.
The event was hosted by Dr. Jenny D'Olympia, director of the MVP and TVTV programs. The panel discussion was moderated by Clinical Psychology PsyD students Jose De Ramon, a Navy reservist, and Mia Porter, an Army National Guard veteran.
The MVP concentration is open to students from any eligible program at the college, regardless of prior military service experience. MVP students are trained to become culturally aware clinicians through courses on military culture, substance use, trauma theory, and they receive training related to the unique challenges faced by military families.
Enrollment in TVTV is uniquely available to military and veteran students. The program teaches these students to address the mental health needs of their military and veteran peers, while also providing a supportive path for those same students to transition out of the service and find a mission in the civilian world. The panel was asked about the importance of finding support from the people around them, and in the environments in which they live and work.
"I always say to people [who are] thanking me for my service, 'thank you, but thank my family,'" said New. "My wife was snow blowing, dealing with floods – the weirdest things that can happen when you're gone –and she did it all. There's no amount of diamonds or flowers to replace what she's done for me."
Support was key for LeClair as well. He is now a master's student, but started at the college in the Bachelor of Science in Psychology and Human Services bachelor's degree completion program. He graduated from the bachelor's program with honors, and during the panel discussion, pointed to the support he received from his family, from the school, and from fellow veterans in the community as essential to his path.
"The job William James does in recognizing the veteran community is astonishing," LeClair explained. "I've gone to three colleges, and there isn't this value placed on the community. I've learned so much from my fellow veterans and professors, and that has allowed me to be a better person."
Among those he credited by name was fellow veteran Marc Abelard. A Marine Corps veteran, Abelard was the founding director of the bachelor's program and is now Director of Strategic Partnerships for the William James College Center for Workforce Development.
Veterans Day gatherings are a tradition at William James. In a year where some veterans are finding a need for additional support, following the withdrawal of US troops from Afghanistan, this year's event aimed to add a new element to the tradition. Members of the college community were invited to submit anonymous notes of support, recognition, and appreciation, along with photos of veteran and military friends and family members. MVP and Clinical Psychology PsyD student Kelly Re gathered the submissions and created a tribute video that was presented during the ceremony.
"We're all in some stage of coming to terms with the end of the war and what that might mean for service members, veterans, and the people of Afghanistan," said D'Olympia. "This observation gave us an opportunity to unite as a community, and the continued support and connections offered within our own community demonstrated a heartfelt and meaningful experience felt by all."
William James College today offers a number of programs designed to educate clinicians and professionals in culturally responsive practices (a method shown to improve outcomes for those receiving services), but the MVP and TVTV programs were among the first and, said President Nicholas Covino during closing remarks at the event, these programs have helped to inform the development of other programs created after.
"What you've created is unique and special – and it is effective," he said. "Today we think together about 'what does it mean to be a person of service? What does it mean to be a person of integrity? What does it mean to lead collaboratively from within a space, and how do we put ourselves in a space where the world is made better from its community?'"
Topics/Tags
Follow William James College
Media Contact
Katie O'Hare
Senior Director of Marketing