WBUR Highlights Program on Suicide Prevention for Veterans
By Staff Writer
Jul 24, 2023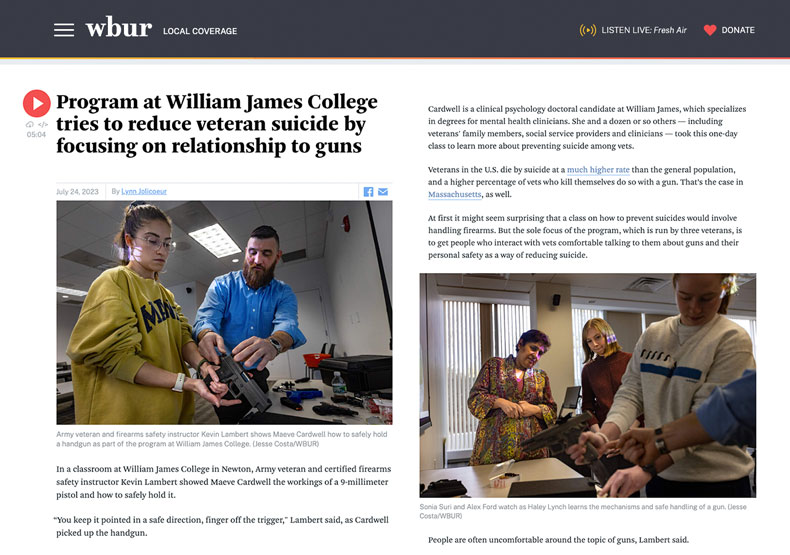 WBUR's Producer, Reporter, and anchor Lynn Jolicouer, covered William James College's Suicide Prevention for Military Veterans Through Lethal Means Counseling program in an in-depth report. The segment aired on July 24, 2023, on WBUR's Morning Edition. Jolicouer attended the day-long program last spring at William James College, interviewing both instructors and participants.
Dr. Jenny D'Olympia, director of the Military and Veterans Psychology and Train Vets to Treat Vets programs, and associate chair of the Counseling and Behavioral Health Department at William James College, along with her colleagues, Framingham police sergeant, Army veteran, and William James College instructor, Jay Ball, and Kevin Lambert, William James College student, Army veteran, and program instructor, offer this program multiple times throughout the year to provide clinicians with background about the safe handling and storage of firearms, and the laws governing firearms ownership in Massachusetts. The goal is to improve their knowledge, vernacular and confidence, when discussing suicide prevention within the military and veterans' communities.
The next course will be offered on September 8, 2023 from 9:30 AM – 3:30 PM. Learn more and register here.
Read the full WBUR article and listen to the segment here: Program at William James College tries to reduce veteran suicide by focusing on relationship to guns | WBUR News
Topics/Tags
Follow William James College
Media Contact
Katie O'Hare
Senior Director of Marketing